This past week has been pretty interesting...
I pretty much stopped working myself ragged from Wednesday to earlier this afternoon. This wasn't by choice. I suddenly feel like my mid 20's body has been replaced with the body of a frail and frigid 60 year old man. I find myself being hungry, getting something to eat, and falling asleep before I even finish my meal, and waking up confused as hell and still hungry. I fell asleep from sheer exhaustion twice (that's right twice) this week
before
9pm.
I'm yawning right now...and it's barely 9:30pm.
Friday night I went to El's place to catch up on new
mailing list subscriptions
(You guys are awesome!) and a little Linux education only to fall asleep on the couch while watching Arrested Development at around 10:30pm. I mean seriously, who the hell falls asleep on Arrested Development? And once again I have to thank the person who invented the striated concrete on the shoulders of interstates. If it wasn't for those loud, god forsaken vibrations, I would have sustained serious injuries trying to drive back home, on Friday, while sleeping.
Saturday I made it a point to actually get out of the house and act like someone in their 20's. Had a few beers, hung out with a couple of friends, saw a few bands, and was in bed by 12:30am. Still a bit early for a Saturday, but baby steps...
...baby steps...
I'm pretty much burn out on this music video. I've got one more minute to animate, but I can't bring myself to do anything with it right now. So I ended up doing what this project is supposed to be about...playing music. Practiced for about 2 1/2 hours today (too tired to go longer) working on some new stuff and trying to perfect the old. And jotting down a wave a lyrics that came from nowhere..as if they were there the whole time. I was going to post some new music here but... yeah, I'm effing tired...
But I did make a couple of paintings that will be printed on the album discs.
I dig it...
Took a wooden turn table, taped paper to it, got a few colors of watered down acrylic paint, spun the table, dropped some paint and Voila!
Test 1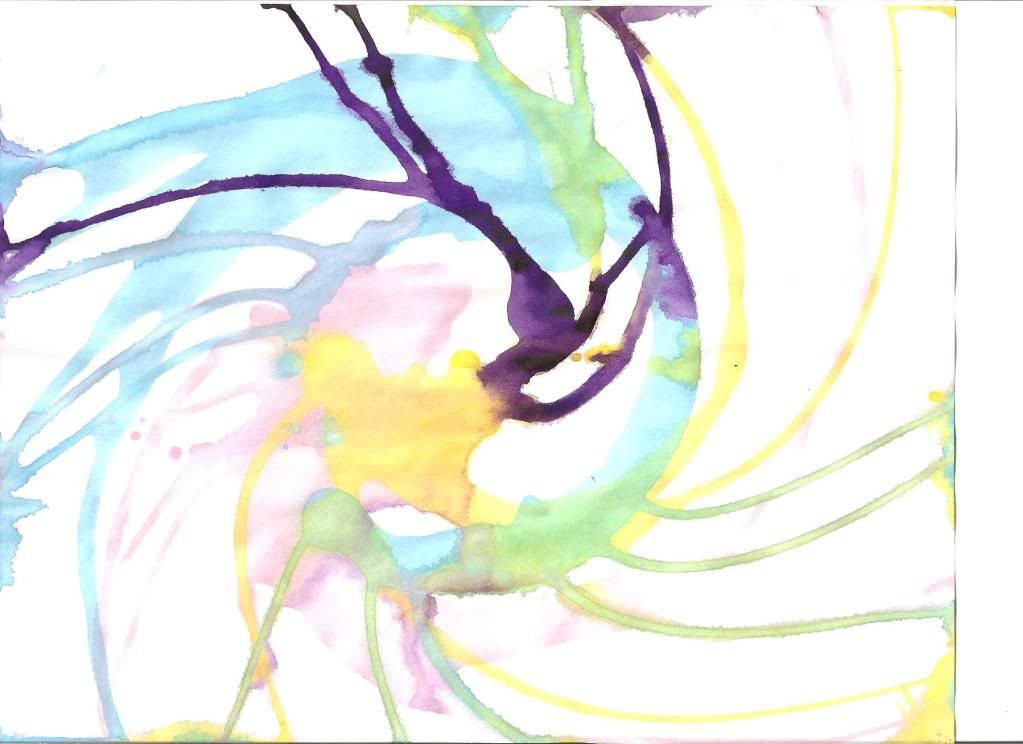 Test 2
Combination of tests with the aid of Photoshop
I dig it a lot...
Another quick reminder that
Jovian's
CD Release party is this Friday @ the
Firebird
... It would be cool to see some of you out. Let's hope I can stay awake for the night of music...
*yawn*
*smack* *smack*
...
Yeah, I'm going to bed...
~Syrhea